.

"Until we extend the circle of compassion to all living beings, we shall not find peace" -- Albert Schweitzer
.

The Ultimate Objective: The weapons are active care, compassion and concern, the vehicle encompasses successful initiatives that address the ills of conflict, ignorance, poverty and disease.
Established as a Nevada nonprofit organization in 1994, for 25 years Humanitarian Resource Institute has served as a leader in advocacy, mediation and policy development.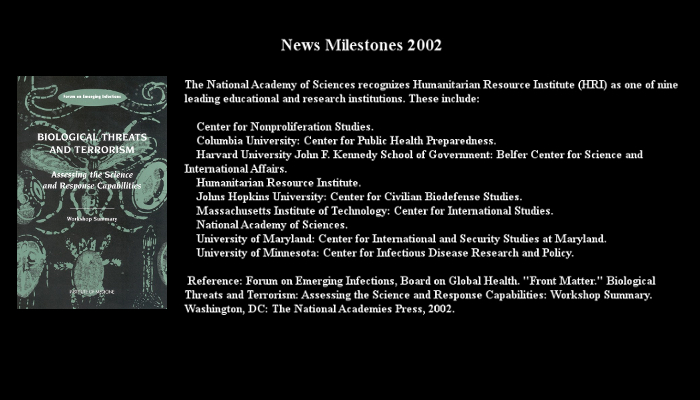 Whether it's the over 120,000 veterans suicides since 911, 1.8 million homeless youth on the streets across America, with 1.5 million sexual assaults every 48 hours, or UN torture reports on children, the focus of our 501 (c)(3) nonprofit organization Humanitarian Resource Institute (UN:NGO:DESA) and H-II OPSEC Expeditionary Operations has been those who slipped through the cracks and unmet needs defined by leaders on the front line.
How to Help:

1) Make a financial contribution through Paypal via the link on the front page of the Humanitarian Resource Institute web site: www.humanitarian.net
2) Join the Force Multiplication Team and schedule an Impact training program: Unconventional Leadership Development: From "Living On The Edge" to being the "Cutting Edge." :
3) Coordinate a fundraising campaign or event to support HRI: H-II OPSEC.
4) Purchase the album Country Goes Global by CMA Artist H-II Stephen Michael Apatow, founder of Humanitarian Resource Institute and the United Nations Arts Initiative. Google: Country Goes Global.

Thank you for your support.

---

Gifts in support of the 501 (C) (3) Nonprofit Organization Humanitarian Resource Institute and the United Nations Arts Initiative can be made through Paypal:



---

For additional Information, please contact:


HumanitarianResource Institute

711 S Carson St #4
Carson City, Nevada 89701

Mailing Address:

167 Cherry Street, # 260
Milford, Connecticut 06460
Humanitarian Resource Institute has been organized as a Nevada nonprofit corporation and is qualified as a non-profit organization under Section 501(c)(3) of the Internal Revenue Code.
.