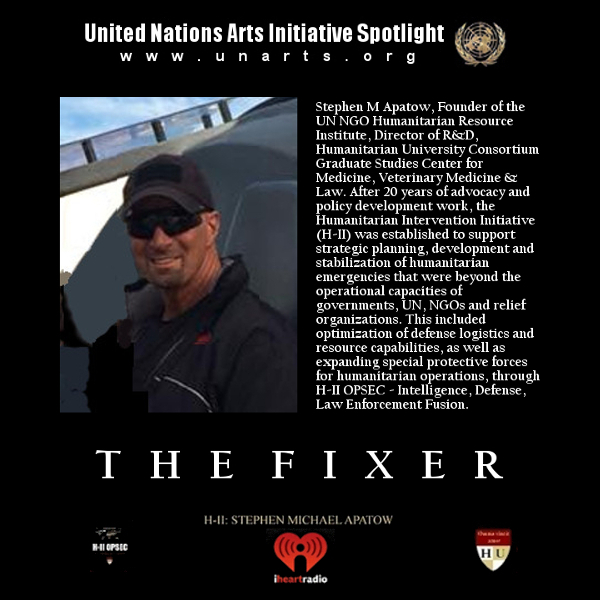 Global Special Operations Network - Year End Update

30 December 2018

Great year-end report from national hero Stephen M. Apatow
. --
Stan M.
Stephen, no one synthesizes the global and local threat landscape and the dangers we face better than you. Thank you for including my work and I appreciate your insights. May peace thrive! - Farhana Qazi, Founder of Global Insights, LLC and Fellow at the Center for Global Policy. Farhana is the first Muslim woman to work for the U.S. government's Counterterrorism Center. -- U.S. National Security - The Importance of Peer Review: HRI: H-II OPSEC.
Global Special Operations Network - Year End Update
Current Initiatives
National Security - Solution Oriented Thinking for Damage Control in Crisis Response
National Service - When it comes to unmet needs, you do what you need to do, to get the job done! -- At least you try.
The Taliban and Al-Qaeda looked upon the illegal narcotics trade as a way of fighting Western countries by draining their resources when they tried to fight an endless and unwinnable battle against the Drug Lord's and Taliban and Al-Qaeda network that covered the whole Middle-East and beyond. The aim of the Taliban and Al-Qaeda was to flood Western countries with Afghan heroin, from London to Paris to New York. -- Honour Bound: Anthony Stephen Malone (Rogue Warrior): Overdose Epidemic - Taliban and Al-Qaeda Outline Strategy - Hezbollah Transnational Crime Networks: HRI: H-II OPSEC.
No One Gets Left Behind
Veterans For Change reported: Nearly One-Third Of 847,000 Vets With Pending Applications For VA Health Care Already Died. We can add this to the needs landscape associated with 300,000 homeless veterans on the streets across America, 330,000 TBI's and over 120,000 veterans suicides (9.11.01-Present).
What happens when a defense response is the only pathway to stabilization and security, IN A HOT ZONE?
A militia attacked just "a few metres" from an emergency centre, the country's health ministry said. Staff of the World Health Organization (WHO) were forced to leave as a shell hit the building they were in. -- Anti-ebola efforts suspended amid violence: BBC, 17 November 2018.
2011-2018: A Civil Affairs Failure of Holocaust Proportions
What happens when there is no vehicle to enforce an international security apparatus, because the perpetrator of war crimes and crimes against humanity is a P5 voting member of the UN Security Council (and is in joint military command with the state sponsors of terrorism Iran and Syria)?
Russian Joint Military Command with Iran supporting Assad -- Message to Idlib: No one cared about one million now in mass graves, 6 million displaced (feared dead), entire cities made mass graves, live streams of brutalization torture and rape of woman and children to world leaders (2011-2018)... No one cares about you.
Picture the scene in the Movie Holocaust II - The Children
"They kept them [hanging] there for 10 to 15 minutes. Some didn't die because they are light. For the young ones, their weight wouldn't kill them. The officers' assistants would pull them down and break their necks," said a former judge who witnessed such events. -- Mubin Shaikh - - SME, Radicalization & Terrorism Subject Matter Expert.
"Rape of women and girls was documented in 20 government political and military intelligence branches, and rape of men and boys was documented in 15 branches," the U.N. war crimes investigators said.
10 Minutes - Capacity to Respond to a Chemical Weapons Attack
Leaders across America are learning that Fire, and Emergency Medical Services need to mobilize and administer atropine within a 10 minute window, after a Chemical WMD attack with an weapon such as a Sarin Improvised Explosive Device (IED). The time line for response is minutes, and requires rapid access to atropine stockpiles, to prevent a spiral that could potentially kill more victims than the 911 attacks.
CSP-TSA-CAA Focuses on Recognizing the Signs of Human Trafficking
1.8 Million kids are homeless in America.
-- 150,000 victims of human trafficking of Children, every 48 hours.
-- 5-25 sexual assaults/child, per night.
-- 150,000 X 10 buyers + 1.5 million child sexual assaults, every 48 hours.
The Real Mission Impossible
On The Lecture Circuit -- 28 Years, focused on the unmet needs, defending and protecting those without the ability to defend themselves:
Cycle Across America for Substance Abuse Prevention (1990), Run Across America for Hunger, Homelessness and Poverty (1993), Formation of Humanitarian Resource Institute (1994), Focus On America: Advancing leadership support and unmet needs analysis in every city/county area of the United States (Initiated with FEMA and the Emergency Food and Shelter National Board Program), to the grassroots city/village level in 193 United Nations member countries, International Disaster Information Network (Developed in Cooperation with FEMA in 1999) to the Global Special Operations Network - Intelligence - Defense - Interpol - LEO Fusion Support (2011-present).
Reference:
Global Special Operations Network - Year End Update
: HRI:H-II OPSEC,30 December 2018. LinkedIn Pulse